At Accent Angus Farm, cattle has woven its way throughout generations. Now in our sixth generation, raising cattle has gone from "part of the farm", to a character-building hobby, to now a passion-driven cattle operation we're eager to share with you.
Dick Taylor is the reason Accent Angus Farm is where it is today. His father and grandfather both raised cattle, but it wasn't until 1944 when he purchased his first Angus heifer that his love of the Angus breed was ignited. As the saying goes, the rest is history. Dick was very proud of his cattle and he was proud to pass on his love to his children and grandchildren.
Early on, the Taylor family and Accent Angus Farm built quite a reputation in exhibiting high-quality show cattle. Craig, Dick's son, was instrumental during the 60s, 70s, and 80s in building that reputation by exhibiting a number of state and national champions. Cattle took a bit of a back seat while Craig grew his own family, but the "cattle itch" was passed on to one of his own sons, Brett, who also had success in the show ring. Both Craig and Brett are passionate about showing cattle and they've "got the touch". While a 32-year span stands between it, they both won the Illinois showmanship contest as junior exhibitors at one of the most prestigious Angus state preview shows in the nation - a first and only father/son feat.
Since Dick's passing in 2014, Craig and Brett have continued to build upon the foundation that was laid and have recently shifted to expanding the herd and growing the freezer beef business. It's often been said that Angus cattle is in our blood - and it's true. It is what drives us to continue to improve our herd and expand avenues for others, like yourself, to acquire Accent genetics or to enjoy quality Angus beef. Whether it's through an investment of a heifer, cow, or bull from the herd, or by purchasing some delicious beef and steaks, know that the love of Angus cattle runs deep and we are eager to provide you a piece of our history.
---
The article below was written in 2011 about Dick and shares more about our history.
Long line of champions: Taylor Angus operation approaches fifth generation
By Bonnie Clark, Staff Writer
January 28, 2011
Journal Gazette & Times-Courrier, Mattoon, IL
Dick Taylor's dad always said raising cattle was a lot of work. "If you don't want to use a hay baler and a pitchfork, then you'd better head to town," he would tell him. Apparently, hard work didn't deter Taylor, of Oakland, an Angus breeder, who is continuing a five-generation tradition that began with his grandfather and father, and whose sons and grandsons will likely will continue for decades after he's no longer in the business.
That may not happen any time soon, however, for the 79-year-old Taylor, who is still actively caring for his herd and anticipating his next champions. Raising and breeding registered Angus cattle has been a commitment of the heart since he bought his first heifer in 1945. His father, Roschen "Buck" Taylor, and grandfather, Calvin Taylor, owned Angus cattle, and it was a natural for him as a first 4-H project, he said. "Dad took me to Milford to a Cornbelt Angus Association sale and I bought my first heifer, Black Cap K 25," Taylor said. "I still have the registration papers for her.
"I showed her successfully for two years. She was champion every place she was shown. "Most of the offspring I kept to start my own herd," he said. "And, while I was in the Army, Dad took care of them for me."When Taylor came home from Korea in 1954, he returned to Oakland, got married, took his cows with him, and started farming on his own.
That's when he began using the name Accent Angus Farm, which he has used ever since, and which has garnered respect not limited to the local community.
Jerry Cassady, regional manager for the American Angus Association, has known Taylor for 20 years. He described him as "a likeable guy who is very professional. "He's always willing to do the homework, legwork and the traveling it takes to stay up to speed, stay at the top of his game," Cassady said. "He's been a good promoter of Angus as long as I've known him."
The continuity of quality to consumers is just one of the reasons Taylor has such high praise for the breed. "When you go to buy a piece of steak, if it's certified Angus beef, you know it's going to be good. But, it has to say 'certified,'" Taylor said. "Angus is known for being sweet and tender with good marbling. You eat that steak and you're going to want to buy another."
Taylor said in the 1950s, the American Angus people were looking at cattle that were short and fat - carrying too much fat. "It was a time we called the 'Fatty 50s,' and it lasted a while," he said. "In the 1960s the only place you could go to get a bull that would increase the size of your cattle was Canada, and that's what I did.
"I went there to buy Coalbridge Marshall 15 in Alberta in 1970, but I couldn't get the job done. He was bought by a man from Sullivan, Mo. He bought two-thirds interest and the other third was kept by the breeder in Canada. "When I got home, I was able to talk the breeder into selling his third to me, but I had to guarantee him so many ampules of semen per year. That was when they were getting started using artificial insemination. "After we bought him, that was the beginning of the really good cattle we've had on the farm. He was the beginning of the line."
Taylor said there are many considerations when buying cattle, and Angus breeders' detailed record keeping makes all the difference. "There's a lot more to buy than four legs and a hide," he said. "EPD (Expected Progeny Difference), you've got to have that along with the other records. It tells you if there's a light birthweight; the weaning weight at 205 days; maternal, how well the mother is providing milk; and the yearling weight, which should be 1,100 to 1,200 pounds. "If you have all those, you have a pretty good idea what your future herd will be," he said.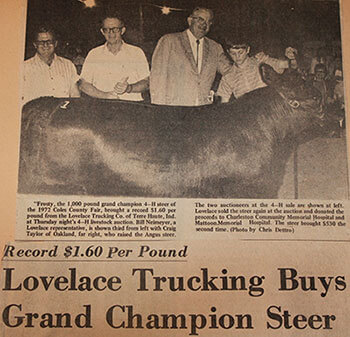 Taylor became partners with Max and Fred Miller of Oakland in the early 1970s. "We each had 50 percent of the herd," he said, "and our herd sire was Coalbridge Marshall." The men began having production sales that were held every year for nine years on Illinois Route 133 between Oakland and Hindsboro. "People came from all over the country, everywhere," Taylor said. "In fact, we sold to a lot of people from Canada who knew the breeding of Coalbridge Marshall 15. "After we quit having the sales, it was time to end our partnership because, and only because, the boys (their sons) were coming home from college and wanted to farm."
Splitting up the herd was no problem, he said. The partners just flipped a coin to see who went first and then took turns choosing from the cows and 2-year-old heifers. Both kept an interest in the bulls.
"I had used the name 'Accent Farms' before the partnership, so naturally I kept the name."
"I bred the grand champion steer in 1967 that was shown by our oldest son, Brad. We sold it in the 4-H sale for 60 cents a pound. I think cattle at the time were about a quarter a pound at the stockyards. "In 1972, Craig, our other son, showed another steer we bred and owned and he brought $1.60 a pound, an all-time record at the sale at that time. Now they sell for about twice that.
"Craig was the national heifer award winner in 1977. He also came in second out of 72 in 1977, at the National Junior Angus Show in Louisville, Ky.
"Accent Miss Rosebud 60 came along after Taylor was on his own again. "She was the heifer that was never defeated in 1980," he said. "She was also grand champion at the Indiana State Fair.
Champion herd sires bred and raised by Taylor have included Accent Marshall 191, the son of Coalbridge Marshall; Accent Mr. Noble; and Connealy Predest, which Taylor purchased at a sale in Nebraska. He weighs 2,500 to 2,700 pounds and is the current herd sire. "He has five heifers out there now that look real promising," Taylor said. "I think they're good enough that we can take a couple to the National Heifer Show."
The cattle business has provided a good life for Taylor and his family, he said. "It teaches responsibility to your children," he said. "It teaches values and character, and some of the nicest people you'll meet in the world are livestock people. We've made some wonderful friends."
His wife, Jane, said Taylor didn't tell her before they were married that they were going to "get this involved in raising cattle. He may have had it in mind, but he didn't share it with me," she said. The Taylors have been married for 56 years. "I must be doing OK," he said. "She's still smiling at me."
*portions of this article have been removed for brevity purposes